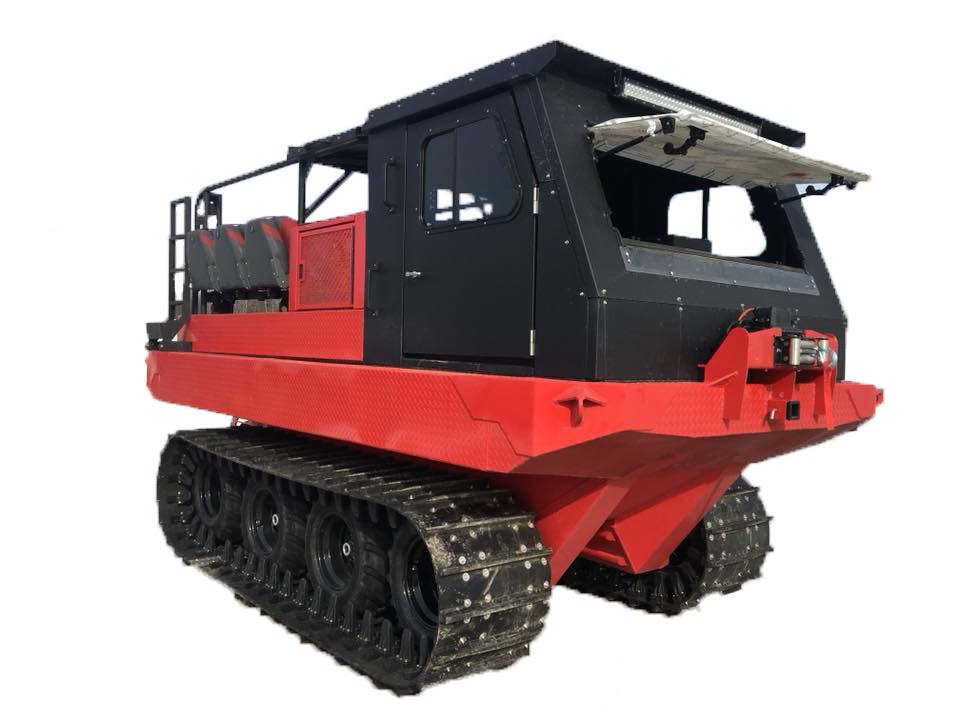 Savage Equipment Leasing is an exclusive sales and leasing distributor for Hydratrek Multi Puprose Amphibious Vehicles (MPAV) in Manitoba, Ontario and Québec. Hydratrek manufactures a unique line of small off road amphibious vehicles for use in  various public safety, commercial and industrial, military, and recreational applications. Based on 5 years of extensive research, engineering and testing, Hydratrek have exploded onto the small amphibious market with an extremely rugged and versatile vehicle design capable of negotiating the most challenging terrain, steep inclines, heavy sticky mud, swamps, woodlands, snow, and disaster areas such as earthquake zones and flood waters.
Each Hydratrek vehicle is hand crafted and built with the most reliable and industrialized components available. Incorporating a 100% marine-grade aluminum body, turbo-charged diesel engines, hydrostatic drive systems, bronze propellers for water propulsion, and a rubber track system, Hydratrek MPAVs are extremely powerful, dependable, and capable of serving numerous missions and purposes.

We've created an elite line of multipurpose, amphibious vehicles, to help you reach the toughest, most remote locations on Earth. Whether it's saving lives in the event of a disaster, moving people and equipment during environmental cleanup, transporting workers during high water situations, helping the military defend our country, or navigating otherwise impassable terrain, our mission is to get you where you need to be quickly and safely.
Each Hydratrek vehicle is powered by a turbo-charged Kubota diesel engine that provides strong power, meets emission standards, and offers efficient fuel consumption. And every vehicle operates via a closed-loop hydrostatic drive system that's reliable, environmentally-friendly, and provides ample amounts of torque.